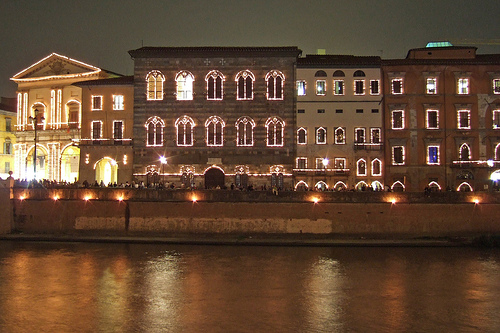 On June 16 myriads of flames lit the night along the river Arno, in Pisa. Visitors can appreciate an unforgettable sight.
The Luminara is a special event that occurs every year in honour of San Ranieri, the city's patron saint, whose relics were placed in 1688 in the Chapel of the Cathedral of Pisa.
A few days before the Luminara on the facades of buildings, churches and towers are fixed white wooden structures, called "biancherie", on which are carefully secured approximately 70,000 lights (with wax or oil) which are then turned on at sunset.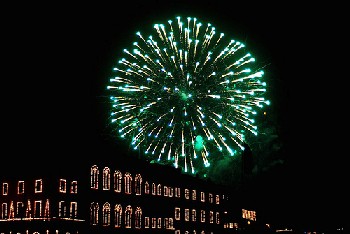 The candles decorate arches, cornices, windows, pillars and highlight the architecture of the buildings.
After dark the trembling lights are reflected in the waters of the river and the Luminara offers the viewer an almost magical effect. A touch of charm is added by thousands of lights floating in the river.
For the Luminara Pisa is full of people and tourists who stroll along the streets and enjoy the astonishing scene.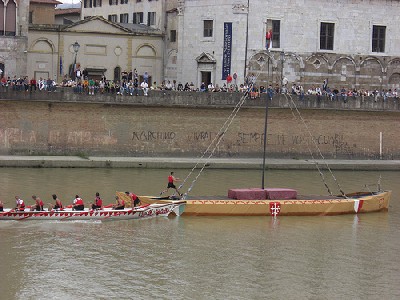 At the end of the evening all eyes are turned upwards, towards the Ponte della Fortezza, waiting to see the fireworks that always delivers beautiful emotions.
The Luminara well as a worthy tribute to the artistic tradition of Pisa is a particular event, by which Pisans celebrate the arrival of summer. The day after the Luminara there is a fair with stalls of sweets, antiques and all sorts of merchandise.
On the occasion of the Luminara, in the afternoon of June 17 the four quarters of the city, Santa Maria, San Francesco, Sant'Antonio and San Martino, challenge each other in a historic race on the water of Arno, evoking the traditional maritime republic of Pisa.
At sunset, after the procession, craft shapes compete to win the blue "paliotto", a symbol of victory, which must be recovered to finish on a yard ten meters high.
The victory and the trophy representative of San Ranieri are won by the first classified, but even the last  classified have a premium: a pair of ducks.
Click here for more information about how to be present.