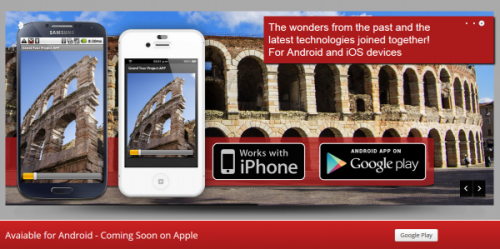 A remarkable aspect distinguishing Italy compared to other countries in the world is the endless amount of cultural
heritage that it has the fortune to possess: a wealth of enormous proportion and always difficult to manage for any Government having set the country's political scene.
Numbers are really impressive considering that there are at least five thousand including museums, monuments and archaeological sites, with 49 UNESCO heritage sites; Even the movement of money is very important since the income from museum and cultural sector generally represents slightly less than 6% of GDP, with a turnover of around 10 billion euros each year.
Despite this high tourist potential, however, the technological services related to such an abundance are really scanty.
The digital world is still too little involved in our artistic heritage, although the average tourist has now in his pockets mobile devices related more to computers rather than common mobile phones.
It is not just a matter of local administrations which may appear to be one-eyed or little sensitive to the issue: Even though you have a look at private offer, this trend slightly improves.
Browsing within the app's most famous sites in fact, limited to the area in question, you can find various software solutions with characteristic and repeated flaws: they are often related only to a specific monument or site, or are offered in a single language or have a poor quality. It follows then that the average tourist eager to appreciate more Italy digitally, is completely flooded with smartphone apps that do not meet his/her requirements and do not allow him/her to better enjoy our historical heritage.
It is this context four boys of Rovigo wanted to explore, all inspired by a common passion for computer science, cinema and a love of our history. They created not only a different app but a real continually and constantly evolving project: the Grand Tour Project.
The idea of the founder Riccardo Santato, graduated in Conservation of Cultural Heritage at the University of Bologna, was simple: to create a program for mobile devices that would permit to geolocalize users, make them aware of the most attractive places to visit nearby and then propose them to watch a documentary on the place to visit.
The video guides then would have to be really cheap, suitable for all budgets with a slightly higher price than an espresso.
Such ambitious aims could not be afforded by a single person; Thus the creation of a good team, who could conceive and create a software like any other one in Italy.
The Grand Tour Project is not an app referring to a single monument, like hundreds of other apps available on the market. On the other hand, it proposes at present a catalogue containing around twenty historical sites, with completely self-produced guides. Documentaries, filmed with a Full High Definition – so that users can enjoy every single detail – are also available with different resolutions in order to be less heavy during download and easily usable even for devices with smaller technical capacities.
The team did not concentrate only on videos but it also took plenty of photographs on the field, which enabled the creation of a valuable series of 3D reconstructions of some significant monuments, in order to assist in the explanation and avoid excessive focus on technical terms.
Great attention was paid to the area of texts, with an extensive research work, but they do not appear to be pedantic or addressed to a too limited audience: the adopted descriptive style is both linear and simple but rigorous. Explanations, in addition to delimit architectural and stylistic aspects of monuments, are designed to place them in a precise historical space catapulting viewers into worlds often far from their mind.
The iconographic apparatus is finally equipped with vintage images, old photographs and prints, the result of an extensive network of collaborators from all over the world.
Not even the musical aspect has been overlooked, with original compositions created for the occasion, which help the description.
All guides have also been translated into three other languages (English, French, German), to allow foreign tourists to appreciate more the visited sites; The peculiar modular architecture of the Grand Tour Project is however also open to future translation into other languages, like Spanish and Eastern languages.
A key feature of this app, such to constitute a one-of-a-kind, is surely to offer closed subtitles on all documentaries available for purchase; This decision was taken by the team in order to meet the too often forgotten world of the hearing impaired people. This solution also allows users to view the clips even within environments where you must remain silent, as churches and mausoleums: just turn down the volume, turn on subtitles and problem solved.
This app is continuously and constantly growing: to see the increased number of points of interest available for viewing you don't need to make an upgrade but simply to activate it from time to time. That's the presence of the word Project in the title: the idea of a tourist offer in a continuous and constant evolution, where the software is a unique container always available to be filled with new places to visit as well as additional services that will be implemented in the course of development. Among future developments there will be the opportunity to comment on the guide (and rate it) in addition to the possibility for users to effectively connect their accounts to their social network profiles, taking
advantage of special offers.
All that in more and more languages with high-grade contents.
The catalogue of the Grand Tour Project includes, at present, some of the most beautiful places of Northern Italy: particular attention has been paid to the city of Ravenna, where all the most important monuments were filmed and made immediately available for sale.
Other interesting points were covered in the cities of Padua, Verona, Venice, Ferrara, and in other places of lesser influx
of visitors. Perhaps the last ones represent one of the noblest characteristics of the Grand Tour Project: concentrate not only on well-known monuments but also on some local realities, often superficially ignored by traditional tourist routes, which show on the inside jewels of a historical and artistic nature. To cite a few cases, the Pomposa Abbey in Codigoro or the temple called "La Rotonda" in Rovigo. Typical of our country, anyway, is a certain taste for the beauty that has pervaded the peninsula over the centuries, not limited only to certain specific areas. The Italian phenomenon of the City States and Signorie was in that sense a powerful engine for the beautification of urban contexts.
There are, however, some places which, despite their location inside cities of art, are often too little known to the general public: it's the case of the Scuola Grande di San Rocco in Venice.
In this instance, the development team has actively cooperated with the direction of the Scuola, creating two documentaries which can be seen totally free for anyone. In this way, any visitor, even sitting comfortably in his chair, will be able to be amazed in front of what is commonly called the "Sistine Chapel of Venice". And maybe, in the future, he could become greedy to visit it in person, appreciating more such an admirable and amazing work.
The user interface of the program has been designed to adapt automatically depending on the device used, be it a smartphone or a tablet, and features easy and intuitive controls; It too is available in multiple languages as well as documentaries.

Responsible for the web programming but above all for the creation of the app is Pietro Bello; formerly Chief Operating Officer at Sistemi e Informatica s.r.l. of Rovigo, Pietro has a respectable track record in developing SQL database and IT solutions, with collaborations at national (Valigeria Roncato) and international level (DotaCinema and LiveWorkshop).
The development and research of historical sources are entrusted to Erica Tonin. After working for brands and publishers such as Warner Bros, Winx Club, Play Press Editions, Giochi Preziosi, she became head of public relations of the Grand Tour Project, as well as curator of the subtitles.
Photographs, web-design and distribution of the application through social networks are entrusted to Andrea Tonin.
Professional photographer, he has been working in the IT field since 1997, alternating software production with the creation of graphics for important networks as MTV and RAI. Co-producer of the software for construction previsualization "3D GeniuX", for the Grand Tour Project he is also 3D modeler and animator.
Director, editor, musician, programmer assistant, author and researcher: these tasks are entrusted to Richard Santato, creator of the project. After graduating in 2002, he has been working mainly for the family company where he is the sales manager and owner. A great passion for the cinema and a great love for the Italian culture represent the basis of the creation of this new software.
The product is being completed for iOS7 (iPhone and iPad) platforms and it is already available for devices running Android 4.
It's available for download both on Google Play Store and on Amazon AppStore.
Link Google Play: http://bit.ly/grandtourproject
Link Amazon AppStore: http://bit.ly/Amazon_GTP_ITA