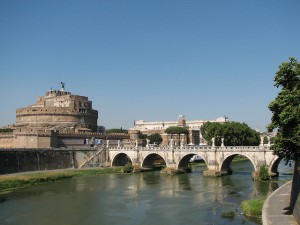 It's a funny thing about tourists in Rome – they are apparently the only ones in the city who are interested in many of the ancient historical artifacts you'll find throughout the area. The residents of Rome are rather disinterested in many of the most important buildings and sites, at least according to Western standards, but there are a few areas of historical interest for the Romans. One of those is the most interesting is the former state prison and fortress – the Castel Sant'Angelo.
Visiting the Castel Sant'Angelo
When you visit the old fortress, the curators of what has become a fascinating museum help you understand what you're seeing by setting up mannequins and displays of the sort of arms and ammunition that would be used during a particular time period. Even furnishings from the period of the Renaissance have been donated to the museum to recreate the feelings of this prison and fortress. With over 1800 years of history, the Castel Sant'Angelo can't show every moment of the past, but it does an excellent job detailing important periods of the castle's history.
Enjoying the Castel Sant'Angelo
To reach the castle, you simply cross the Pont Sant'Angelo Bridge. Along the way you can admire the statues that decorate the edges of the bridge – perhaps designed to bring home to the prisoners who would someday pass along that same bridge. While the building today is most accurately called a Renaissance structure, the Castel Sant'Angelo has a history that extends back to 135 AD when the Emperor Hadrian ordered his tomb constructed in the shade along the Tiber River.
The bridge and the original mausoleum were the original creations where Hadrian was buried a year after his death. Not 300 years later the peaceful monument was fortified just in time for Rome to be sacked for the first time in 800 years. During the looting that followed, the ashes of the rulers laid to rest in the tomb were dumped out and many treasures taken.
It was during the Plague of the dark ages that the tomb and subsequent fortress became a church, the Castle of the Angel Saint. Eventually a true castle, the one you see today, was built over the church and then it was connected to St. Peter's Basilica by a covered, heavily fortified tunnel. Through wars, upsets and eventually becoming a prison, the Castel Sant'Angelo has had its share of triumphs and tragedies.