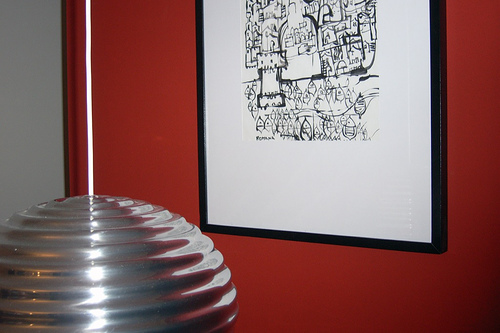 Milan is a city full of mystery and modernism. More than most Italian cities, you'll find a fascinating blend of the modern cosmopolitan city with deep ties in the ancient roots of the town it once was. Among the hidden treasures of this city you'll find the design studio of Achille Castiglioni. While not a household name, Castiglioni was a celebrated industrial designer. An interesting and witty man, his museum doesn't disappoint.
Studio Museo Achille Castiglioni
Far more than just a collection of things in a cavernous museum somewhere, the five rooms that comprise the museum of Castiglioni are the same rooms in which the man worked for almost 60 years. From 1944 until 2006, Achille Castiglioni worked, innovated, lectured and designed in his five-room palazzo built in the 18th century. The intrigue of the museum is not just the fascinating insight into the life of the celebrated designer, but a look into the living history of a place and time period. Everything, right down to the chimney brushes and milking stools have been left as they were on Castiglioni's last day.
While many of his finished works are celebrated in museums, touring this small museum lets you see the work of a design great as it evolved. Notes and diagrams from his friends are still tacked to the wall. Glass shelves are home to an odd collection of treasures including oddly shaped eye glasses, old soda bottles, Soviet galoshes and virtually any object that fascinated him. Everyday objects that would often escape the attention of others were the inspiration for Castiglioni's works, and are found around the room.
The Work of Castiglioni
The prototype of lamps and chairs are sitting around the room and casual objects such as an original milking stool sit beside chairs any museum would love to have. In fact, Castiglioni loved the milking stool for its amazing functionality and portability in such as simple shape and design. He would often demonstrate it with twinkling eyes and merriment for his assistants and students. Upon his death, La Triennale di Milano took over the studio making it part of the largest museum in the area.
Fortunately, touring the Studio Museo Achille Castiglioni is very different than a traditional museum. There are no signs telling you not to touch and no security barriers. In fact, the only sign that this is a museum at all are the security cameras and catalogs that Castiglioni's own assistants keep up in the afternoons. The museum is open on weekday mornings and is located at Piazza Castello 27, Milan, 20121.