Milan might not be the huge hotbed of tourist activity that you'll find in Venice or Rome, but there are important sights in Milan that are worth a visit if you're able to spend a day in the city. Why not tack on a day to your flight plans when you visit? You'll be able to see most of the impressive areas of the city within that day. If nothing else, be sure you hit these three must-sees!
The Last Supper by da Vinci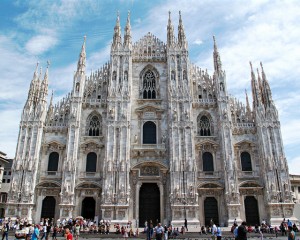 Want to spend time with a masterpiece? Go to the Santa Maria delle Grazie church and gaze up at one of the most impressive frescoes in the world. Of course, something this impressive is complicated to access. You'll likely need to reserve tickets up to a month in advance – possibly more if you're visiting the city during the high tourist season. Buy the tickets online or be sure to reserve a spot on a walking tour that includes a stop by the church.
The Duomo of Milan
The center of most tourist activity in Milan is centered around the impressive Duomo. Visit the inside of the impressive structure and take in the architecture around you. Then make it a point to seek out the elevator. You can ride the elevator up to the top of the building and then walk around the top of the Duomo and gaze out into the city. You'll see the mountains in the distant if you happen to be up there on a cold day, but regardless, you should definitely view the city from the top.
Take in a Show at La Scala
So long as you're buying tickets online months in advance, try to get tickets to the opera while you're in town. If you're not able to actually get into the opera, you can still take a peek inside if you're able to visit the La Scala museum while you're in town. That is, of course, if there's not a practice or show going on while you're in the museum.
If you are able to score tickets for the big show, consider yourself among the elite of Italy. These tickets are expensive and hard to come by. Once you're into the show, you'll be able to count this among the most impressive things you've enjoyed on your trip. You might even be able to score a beautiful gown from the Milan shops before the show.