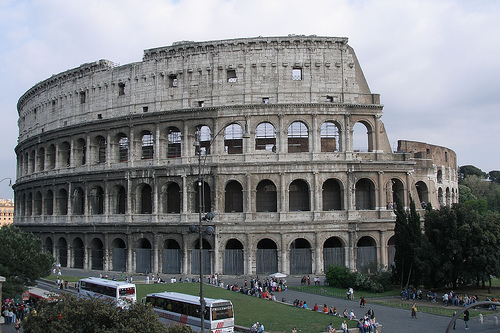 Many summer trips to Rome are already in the planning stages and as you prepare to visit Rome during its most popular season, include the nature of the city in your plans. Rome is a top tourist destination and as such is more than a bit crowded over the summer months. So long as you're comfortable with the crowds, the summer can be a prime time to visit as the city is expecting and welcoming of tourists during these months.
Summer Heat
The summer in Italy is hot and when planning your itinerary be sure you accommodate the weather in your plans. The mornings are a cooler, less crowded time, but the mid-afternoon is steamy and uncomfortable. You can push through the heat to see some sights, but most Italians and wise tourists are resting during this time. A rest in a cool air-conditioned hotel room is rejuvenating and will let you stay up much later at night, the time that Italy truly comes alive. The city awakens from the slumber of heat in the late afternoon and early evening, and the crowds reappear. Being able to keep the peace in a crowd is part of the experience.

Italian Meals
If you plan on grabbing a quick bite to eat, you'd do well to get your lunch or dinner in a café rather than a restaurant. Meals in Italy are designed to be lengthy affairs in order to enjoy the food, enjoy the conversation and take a break in the day. If you show up at a restaurant and expect the waiter to hurry along for you and your party, you're not only in for a frustrating experience, you won't be able to enjoy the meal properly.
Accommodate Safety
With large numbers of tourists come large numbers of pickpockets and other unsavory elements. When in Italy, travel in groups as much as possible and keep your valuable tucked away to avoid advertising your street value to anyone looking for a quick grab. There are some areas of Rome that are safer during daylight hours than they are after dark. Termini Station, Campo di Fiore and Piazza Navona are known to be a bit tougher in the evening hours. If you're unsure of the safety of a destination you're considering, ask the concierge in your hotel for his or her advice on the area and which areas are safe to tour after dark.