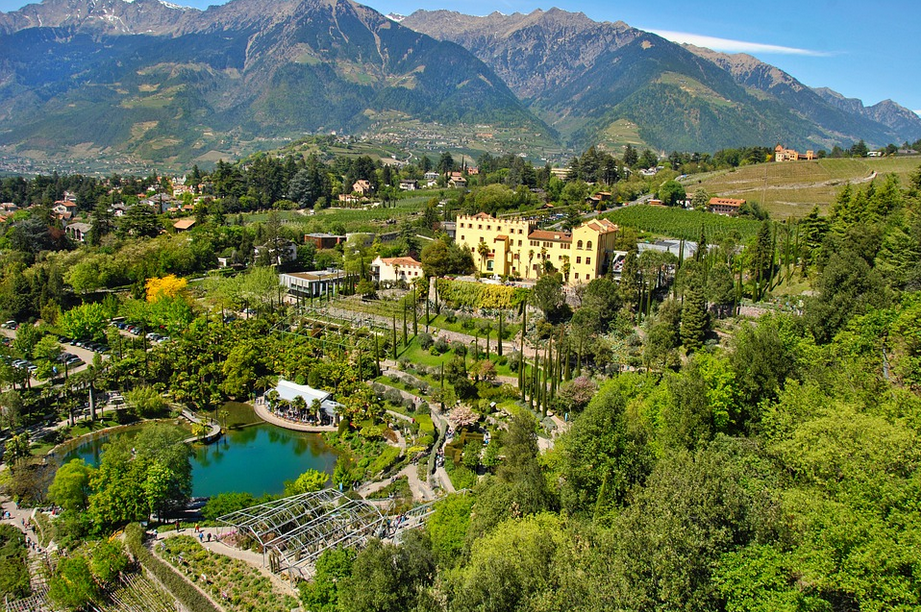 The Touriseum, the Museum of Tourism is located in Merano in Castel Trauttmansdorf and is surrounded by a beautiful botanical garden.
In 1870 and 1889 the castle was the holiday home of Empress Elizabeth of Austria. It was expropriated by the Italian state in 1924 and was transferred to Province of Bolzano in 1977.
In 1989, the provincial cabinet decided on consolidation and adaptation of the castle to be the museum of tourism.
The renovation and restoration began in 1999, culminating in his inauguration and opening in 2003.
The Museum of Tourism is the first museum in the Alps dedicated exclusively to tourism in its various aspects. It shows, illustrating both the views of local people and that of vacationers, how tourism was born in the area and how it transformed the territory and its inhabitants.
The language of the explanatory text is enjoyable, funny and witty.
The intention is to intrigue and amaze visitors, avoiding the tedious and tiring effect of many museums.
The tourist museum is divided into:
1) a permanent exhibition enriched by scenic elements and distributed over a dozen rooms on ground floor and first floor;
2) a collection of studio, open to the public on the second floor
3) temporary exhibitions in the former shed (outbuilding)
4) the game of Alto Adige (pinball wood on Tourism)
5) a multimedia space (with movies, news related to the museum, statistics)
6) a room with children's area
7) the tower of humorists.
In the permanent exhibition it is illustrated, in chronological order and in three languages (German, Italian and English), the history of tourism in Tyrol (before 1919) and in Alto Adige (since 1919), from the beginning around 1800 until the present day.
The tour is inspired by a scene made of rock walls, models, theatre mechanical figures carved in wood (including 15 life-size), sounds and movies.
The multimedia stations provide additional information, the game of the Alto Adige offers moments of evasion, the children's area adds an element of play, and the turret of humorists decorate the whole with a touch of humour.
The historical rooms of the castle house the collection of studies, organized into seven themes: posters and publicity material, postcards, souvenirs, menus, etc..
The collection currently consists of 7000 objects and is constantly increasing thanks to donations, loans and purchases.
Via S. Valentino, 51
39012 Merano
Phone: 0039 0473 270172, Fax: 0473 277665
Email: info@touriseum.it