The gastronomy of this beautiful region, consisting of  completely different territories, is well balanced. In its recipes it can be found the right proportion of several ingredients such as lamb and pork, vegetables (especially eggplant) and fish.
Calabria is a harsh land, sunny offering fragrances of citrus and olives, as well as vegetables and wines.
A particular feature of this kitchen is the processing of food aimed at preservation. Since past the harshness of the terrain, the lack of water in the inland and the weather conditions have affected traditions showing the necessity to store food so to be able to use it in difficul times.
So conserved food is widespread throughout all the territory: from oil products to sausages. Farmers, herders and fishermen have passed down the secrets of processing vegetable, meat, especially pork and swordfish, abounding in the waters of Scilla and Bagnara.
Since ancient times the 'caviar of the poor' is very used, which sums up the meaning of the popular cuisine of Calabria. It is made with eggs of anchovies, preserved in oil and flavoured with chili. This is a recipe telling the story of a poor, genuine, tasteful and simple culinary tradition made of a bit strong tastes and smells… as the whole Calabrian cuisine.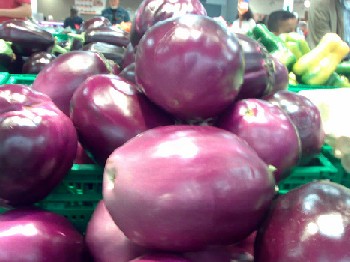 Eggplant with walnuts and almonds
Ingredients
2 large eggplants,
3 garlic cloves,
1 / 2 cup of vinegar,
1 teaspoon of honey,
4 almonds,
50 g shelled walnuts,
2 tablespoons of raisins,
frying oil,
some basil leaves,
mint leaves (if you like)
Preparation
Clean and cut eggplants into cubes and place them into a bowl with salt for an hour or so.
Put oil in a pan and when it starts to warm up dive the eggplant squeezed from their water.
As soon as they are ready, put them on a paper towel, so to absorb the frying oil.
In a bowl, crush the cloves of garlic, add the eggplant, the soaked and squeezed raisins, the coarsely hand-chopped walnuts and four grated almonds.
Broke up with hands a few leaves of basil and mint, then stir and cover.
Meanwhile put the vinegar in a pan with the honey and heat on the stove to melt it.
As soon as it begins to skim, pour it on the eggplant.
Cover again and leave them until cold.
It is advisable to prepare this dish one day before serving.