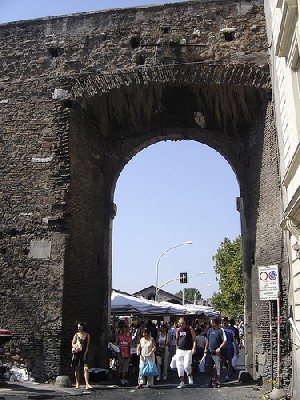 Who has never heard of the open market of Porta Portese? It is the largest and most fascinating market of the capital, taking place evry Sunday morning. It stretches from Via Portuense, through Via Ippolito Nievo arrive up to Viale Trastevere, and obviously to the square with the same name, Piazza di Porta Portese.
Like any respectable market it opens very early in the morning, around 6:00 and  closes around 14:00. Porta Portese is so big and varous that visitors can find everything: used and new clothes, sandwiches with sausage and porchetta, imitations of famous brands, old bicycles, motorcycle helmets, suitcases, bags, accessories, plants, records, antiques, furniture, CDs, umbrellas, keychains, toys, cosmetics and anything one can think of.
It is full of different kind of merchants: besides the traditional Italians, there are Russian with binoculars, batteries and lace and Nigerians, all lined up in the middle of the street market as they do not have a bank of property.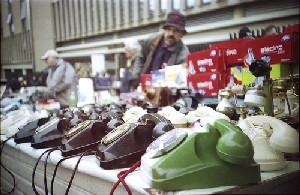 But there are also Peruvians with their multicoloured jumpers, Indians and Turks with their silver items, Polishes with  shoes, sellers from Bangladesh with incense and peacock feathers.
Normally people go there convinced not to buy anything and as usual they finish to be full of packages. It is impossible to resist!!: a pair of shoes 5 euros … a pair of jeans 10 euros…and so on, including antiques and jewellery, where prices can be a lot higher.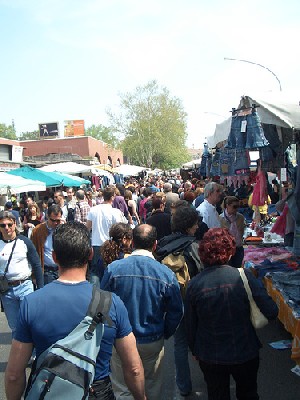 It is a good idea to go there very early or late enough to find bargains. During peak hours it is likely to have difficulty walking among beggars, vendors, tourists and crowds. It is very important to pat attention to wallets: Porta Portese is a paradise for pickpockets and gypsies. Even the most careful buyer remains easily the victim of theft.
So, if it happens to you to be in Rome on Sunday morning, make a tour to this great flea market. Make sure you have a lot of patience with because it is a charming, characteristic and peculiar hellish Bolgia.
To reach Porta Portese: get off at Metro Marconi "Line B" and take bus 170 (towards the center).
Otherwise, get off at the stop Piramide "Line B" and take the 280 or 23, getting off after a few stops.
From Piazza Venezia, take the bus 170.
For accommodation in Rome, click here.