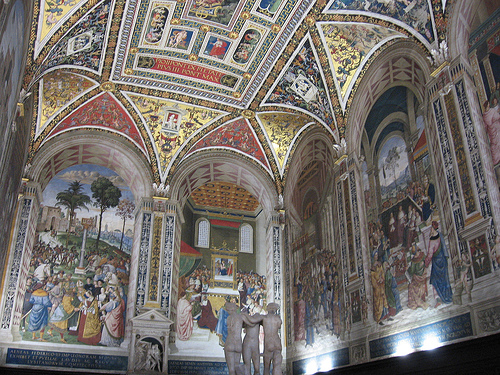 A short drive south of Florence brings you to Siena, the city where "The Nine" once spent vast sums of money to make the most beautiful city in all of Italy. Siena lived up to its reputation then and now with graceful buildings, impressive structures and a myriad of art and entertainment options.
The History of Siena
Siena, often misspelled as Sienna, is a medieval town that still has much of its original Old World charm coupled with the grace of a modern city. The chief competitor with Florence for a great deal of its history, Siena sits squarely in the center of the wine country today making it a popular destination for those exploring Tuscany.

Touring Siena
Today Siena is a treasure trove of art and architecture with impressive buildings dating back to the time when an oligarchy of merchants vowed to create the most beautiful city in Italy. The many churches, palaces and fortresses still standing today bear testimony to the pride of the city and the sophistication of its earliest residents.
Among the more interesting ruins of the city, be sure to visit the famous black-and-white Gothic Duomo. Walk and admire the impressive mosaic flooring and scout out the Bernini statue of Mary Magdalene hidden in a niche of the church.
The Palazzo Pubblico has amazing frescos that are well worth your time to visit and in mid-August you might be lucky enough to witness the Palio, a Renaissance tradition still carried out in the Piazza del Campo, an outstanding shopping center in the city's center. In fact, although the heat during this season can be oppressive, visiting during this time is especially meaningful as you have the opportunity to witness such an impressive display.
Evenings in Siena
The town of Siena isn't huge, but the restaurants and pubs found throughout the city offer a fun variation on nightlife. Food and wine are as much an art form as the sculpture and painting, so stopping by virtually any restaurant will give you a wonderful way to spend the evening. A full course dinner with wine can easily take you late into the evening, but you always have the option of continuing your evening in one of the city's pubs or other entertainment venues.