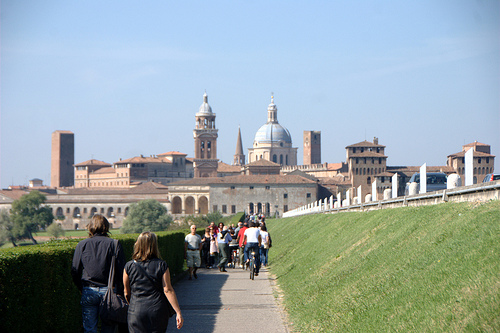 Famous for many reasons, you may know of the city of Mantua as the place of Romeo's brief banishment in Shakespeare's Romeo and Juliet. Or perhaps you simply know the beautiful town as one of the greatest Renaissance Courts in Europe.
The City of Mantua
Mantua is also called Mantova and it's a stunning city with great historical significance and culture. The city is surrounded on three sides by lakes and it was once home to the Gonzaga family, who did a great deal of entertaining and led of life of refinement along the lake shores. Located in Northern Italy, Mantua, or Mantova, became a UNESCO World Heritage Site in its own right for the unique Renaissance design and structure.
Visiting Mantua
Visiting Mantua is simple thanks to the easy location of the train station as well as the availability of public transportation. The city is not small, but is large enough that you'll be able to spend a day or two exploring what it offers as well as enjoying the fine cuisine and historical aspects that it offers to visitors.
When you arrive for a visit, be sure to try some of the local specialties including the Pike fish smothered in a green salsa. Pumpkin and squash tortellini are also found throughout the city. Rice grows in the surrounding countryside, so there are many rice, or risotto, dishes to sample as well in the many restaurants and cafes.
The Sights of Mantua
Easily one of the most impressive sights in the city is the Palazzo Ducale, or the home of the Gonzaga family. This huge compound could easily hold most of the city at once thanks to its 500 rooms spread out over buildings, courtyards and various gardens.
The Gonzaga family lived in the home from the 13th through the 17th centuries, filling the home with riches and artistic treasures. Among these is the Camera degli Sposi, a room in the mansion that holds frescoes from 1474 painted by Mantegna. Another home of the Gonzaga family in the palace collection has been turned into the Civic Museum.
The Gonzaga family may have held sway in the city, but the family home is not the only sight of interest in the city. The Cathedral of San Pietro was created and decorated by Giulio Romana in 1545, and even walking through the three piazzas in the town is worthy of an afternoon as they are surrounded by cafes and other excellent options for dining.