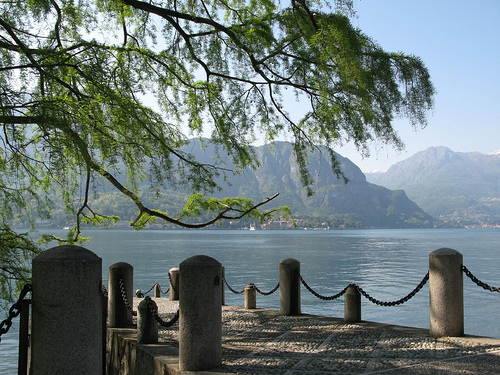 Intensely popular with good reason, Lake Como, or Lago di Como, is shaped much like an inverted Y and is the deepest lake in all of Italy. The unique shape of the lake creates a create deal of coastline and that land is used extensively for villas, resort villages and natural excursions including hiking paths. The lake itself is a popular destination for travel primarily for boating and other water activities, although the hiking and picnicking is exquisite as well.

Locating Lake Como
To find Lake Como, you'll head north of Milan toward the border of Switzerland. The lake is found about 40 kilometers north of Milan and the drive is anything but bland. The countryside is covered with mountains and hills making it beautiful well before you even reach the lake. To make it to the lake, you can drive your own vehicle or take advantage of the train that travels between Milan and Switzerland. The train stops in the small town of Como which is a terrific starting point for exploring the large lake.
Enjoying Lake Como
The best time to visit the lake is during the week as it is a popular weekend destination for the citizens of Milan and other nearby towns and villages. While the summer months provide the hottest weather to make the cool water enjoyable, the fall and spring are the least crowded seasons and there is still plenty to enjoy with pleasant weather and beautiful scenery. If you wanted to travel to Lake Como in the winter, you'd be able to take advantage of the mountains as you ski around the lake.
One of the loveliest areas of Lake Como is Bellagio, located where the three branches of the lake join. Take a ferry or bus from other cities or villages around the lake to visit this "pearl of the lake." Other fun areas to visit around Lake Como include the lively city of Como where the train stops between Milan and Switzerland. You'll also enjoy the Villa d'Este in the village of Cernobbio on the west coast of the lake. This famous villa has been transformed into a luxury hotel, but is still striking to visit. If you're more interested in the outdoors, hiking, biking boating and even paragliding and windsurfing are readily available around the lake in the warmer months. Regardless of when you visit, Lake Como will be starred as a favorite of your Italy travels.