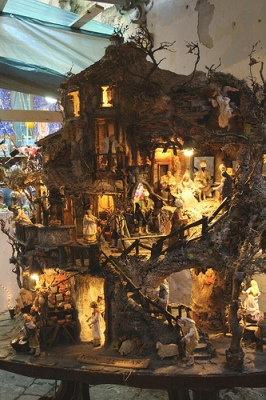 The Neapolitan Crib along with the bagpipes, the raffle and the menu of Christmas Eve (December 24), is one of the strongest symbols of the Neapolitan Christmas.
Crib is a religious symbols, but it is also loved by not too religious Neapolitan families because the Neapolitan crib is the place where the sacred and profane, spiritual and daily life, prayer and irony live as one.
The proof of it is Via San Gregorio Armeno. One of the most famous streets of Naples, which, during the Christmas period, discloses with its cribs people mind to Christmas.
Via San Gregorio Armeno is the famous street of the artisans of the manger, well known throughout the world for its shops devoted to the art of the crib.
The street and the shops can be visited throughout the year and the visitor is so taken back every time to the magical Christmas atmosphere.
For every family in Naples, Christmas is also a visit in San Gregorio Armeno.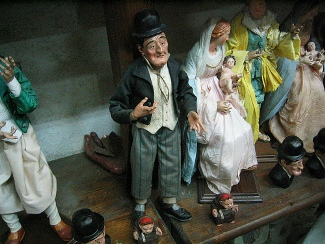 Difficult to describe in words or images, the multitude of small shops and stalls crowding the colourful Via San Gregorio Armeno.
Here it is possible to find everything for the crib: houses made of cork or cardboard in different sizes, electrical objects as windmills or waterfalls, 30 cm high terracotta hand-painted shepherds dressed with tailor-made clothes.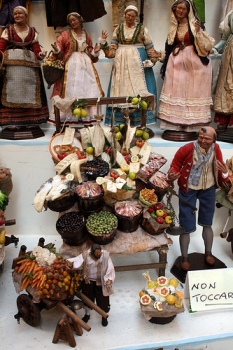 There are also fruit vendors, fishmongers and butchers. But next to them there is something special, typical of Naples: the statue (but would rather the caricature) of politicians or VIPs.
Useful information to reach Via San Gregorio Armeno
– Subway: get off at Piazza Dante metro line 1 and continue for Port'Alba and from there, through Via San Sebastiano, Via Benedetto Croce reach the height of the steeple of the church of Santa Chiara.
– By car: ring road exit Via Marina, after 4 km turn right onto Cathedral Street and proceed for about 300 meters, before the Cathedral of San Gennaro (50 meters) on the left there is the road that leads to Via San Gregorio Armeno.
Photos from the albums of : krisdecurtis, mauro53, Davide Roe.