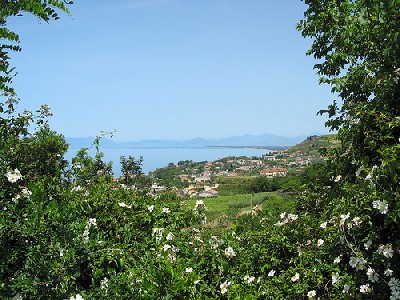 Agropoli is a town of 20,806 inhabitants in the Italian province of Salerno in Campania.
Overlooking the Tyrrhenian Sea, on the southern end of the Gulf of Salerno, sitting just below the Piana del Sele, Agropoli was an important maritime location for the Romans.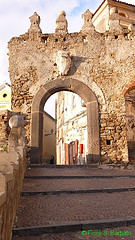 Today it hosts a large tourist port and is the main gateway leading from the sea to the National Park of Cilento and the Vallo di Diano.
The strategic location of  the "pearl of the Cilento" (as it has been defined), has always had a great significance from several point of views.
Today Agropoli is the perfect place for tourists, that will be fascinated by the historical and natural beauties of the city but also from neighbouring places like Paestum, Castelcivita, Pertosa, Velia and all villages of the National Park of Cilento, easily accessible from Agropoli.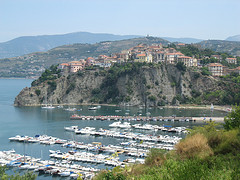 In the old part of the town, a great portion of the medieval city walls is still visible, together with the original seventh century portal with its monumental stairs.
The ancient village is in fact reachable on foot thorough the "scaloni" that were for centuries the only access road to the village and which are today one of the few visible rise in terraces, which are characterized by a series of large and low steps survived to the needs of vehicular.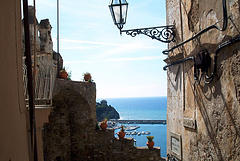 The Anjevin-Aragonese castle, one of the town's main sights, has a peculiar triangular plan and 3 circular towers, one angle cutting deep inside the ancient village, and the opposite face looking over the sea from a steep cliff.
Around the walls of the castle there is a wide and deep moat, now clearly distinguishable only on the side toward the village.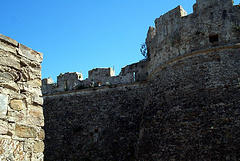 Other important sites are the ancient Church dedicated to the Saints Peter and Paul and the Church of Santa Maria of Constantinople, VI century.
Tradition says that the last one was built after the discovery in the sea of the statue of the Madonna, that the infidels, at the time of the Turkish raids around the middle of the sixteenth century, had in vain tried to take away.
In the historical centre among the many little streets and the monuments, there are shops, bars and clubs that serve typical local dishes or agropolese pizza served in a wicker basket.