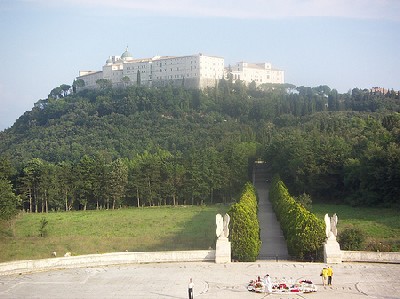 The Abbey of Montecassino was founded by St. Benedict around 529 AD. In ancient times it was destroyed several times and always rebuilt, and during the Second World War it was the subject of a fierce bombardment that led to another destruction of the monastery with the loss of many civilians who took refuge there, hoping to find salvation.
Despite the strong link with tradition, the monastery has had a website since 1996.
The old site of Montecassino included 6 languages such as the Latin(!).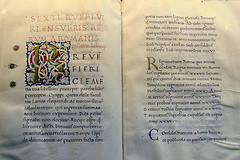 The Benedictine Rule "Ora et Labora," according to which the monks were required to sing the praises to the Lord, to study and to practice manual work: attention to the spirit, first, and then to the body and socializing throughout the day.
This Rule, which was seeking to rebuild the foundations of civil coexistence among cultures, established the monastic order, which will spread throughout all Europe. S. Benedict died in this place in 547.
Biblioteca del Monumento Nazionale di Montecassino
Visited annually by many scholars and university students, including foreigners, the library complex consists of an old area and a modern one including, besides these, a historical archive and a library.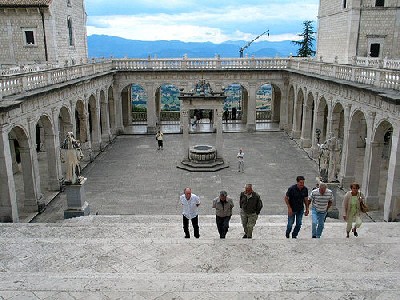 Consistency of the material available:
• 72,101 Volume
• 198 Incunabula
• 1500 Codex
• 20,000 parchments
• 2063 cinquecentine (books published in the sixteen century)
• 259 titles of periodicals
• Audio and Video Material
The material supplied is available for consultation only.
The library puts at the disposal of users a large reading room for consultation and provides a photocopy service. Computers are being set up.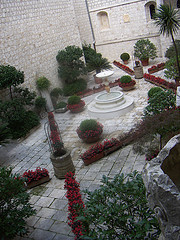 The library is open to the public on weekdays from Tuesday to Saturday from 8.45 am to 12.15 pm.
For more information contact:
Biblioteca del Monumento Nazionale di Montecassino 0039 3043 Cassino (Frosinone) tel. 0039 0776 312393-fax. 0039 0776 312393
The time of entrance to the Abbey:
– In the morning from 8.30 to 12.30 hours
– In the afternoon from 15.30 to 17.00 hours
For guided tours contact the guides at the monastery or at the following numbers:
– Phone 0039 0776 311529
– Fax 0039 0776 312393
– Mobile Phone 0039 388 191 5720
It is good to keep in mind that in winter, the Museum is open only on Sundays.
Inside the monastery there is no catering service and no areas where visitors can consume foods that have brought with them (obviously it is not allowed to consume meals in the cloisters).
The proximity of the town of Cassino and the ease of access allows to meet the needs of visitors.
Fathers organize retreats for men, but not systematically.
Where to sleep.