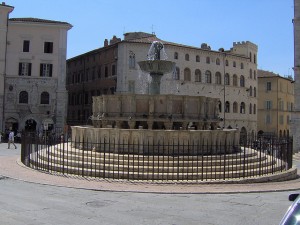 Rich with pastures and rolling hills, Umbria is next to the more popular Tuscany, but this relatively non crowded land is often called the Green Heart of Italy thanks to the sheer number of parks located there. The beautiful lakes, dense forests and sloping green hills are beautiful, and there's no better way to experience the charm of Umbria than by basing your travels from its capital city, Perguia.
The City of Perguia
Perguia is a town with a rich heritage, dating back to the medival days. The history of the town is easy to follow with the high walls around the city and the narrow, cobblestone streets. Located in the exact city of Italy, Perguia is well connected by public transportation and makes an excellent base for branching out into the surrounding areas to visit the nearby hill towns, many of which are as old and interesting as Perguia.
The Chocolate of Perguia
Like most cities, Perguia celebrates one of its greatest products. For this old town, it's the rich chocolate that is celebrated. If you were to visit Perguia in the middle of October, you'd be able to take part in the giant festival of chocolate that is held as an annual event in the town. Eurochocolate is an excellent way to taste the wares of Perguia, but you can find specialty chocolates year round, of course. There is also an international Jazz festival that is based in Perguia. That festival is held during July and would be a great time for music enthusiasts to visit the city.
Piazza IV Novembre
This tourist attraction is located in the heart of Perguia. A large open square, you'll find a nice selection of tourists and locals enjoying the nearby restaurants and shops. A visit to the Piazza IV Novembre will also earn you a peek at the most impressive fountain in Perguia, the Fontana Maggiore as well as the Palazzo dei Priori
Built from pink and white stone, the Fontana Maggiore features impressive carvings of the months of the year, Aesop's fables and even astrological signs. Next door, the Palazzo dei Priori is a large, impressive building with ancient roots and outstanding frescoes dating back to the 13th century and older furniture as well. Today, while visiting Perguia, a trip through the Palazzo IV Novembre will take you to the National Art Gallery of Umbria as well as two other museums.