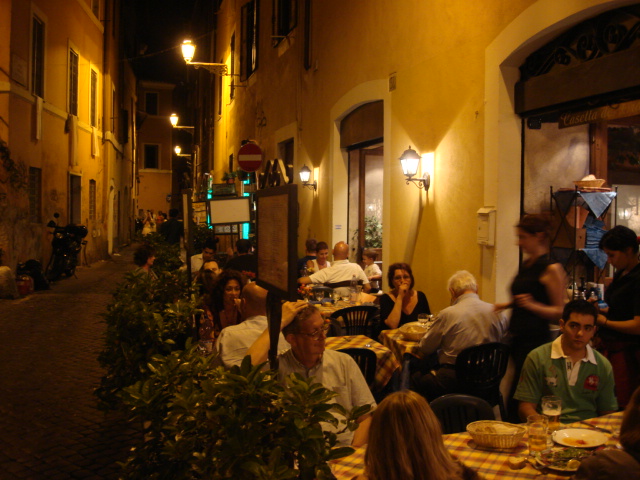 There's a good reason Italian food is loved the world over. It's delicious and when in Italy, you can expect some fine meals. Often these meals come with fine price tags as well, but eating in Italy can be worth every penny if you know a few tricks of the trade.
Eating Cheaply
When you're trying to eat well for less, don't sit down. There are additional service charges added to your meal beyond the normal tip you're familiar with when you sit. The service charges can be high as can the bread and seating charges. Instead of taking a seat, simply eat standing at the bar or order your food to go. Take it back to your hotel room to eat or stop and eat it as a picnic in the first piazza you come to with a nice view. Cafeteria-style restaurants are inexpensive as well as there are no service charges in these either. Finally, the quick cafes along the streets let you grab a quick bite to eat for far less than you'd pay in a restaurant.

Understanding Italian Waiters
The waiters in Italy are masters of their craft – Italian food and wine. They don't suffer fools and they don't like to be bothered when you should be focusing on your food. In the beginning of your meal, you'll immediately earn their dislike if you order a cocktail while you wait. Order a small light wine to sip if you'd like, but cocktails are for after dinner – not before. The same can be said for coffee.
Once you're seated, the waiter will go over the menu and specials and help you select a wine. Then he will serve you the food in the order it should be served according to the Italian customs. Trust your waiter to do what is "right" in Italy. He'll offer cheese when Parmesan should be included. If it's not offered, it likely doesn't belong on your dish. He'll refill your glass, but don't stop him to ask for something extra during the course of the meal. It's simply not done.
Children in Italian Restaurants
Italy is open to children in most restaurants provided they are well behaved, of course. The restaurants have high chairs available in most cases and will serve dishes in half portions for the smaller members of your group. Be sure to include your child in your service and bread charges, of course – they never eat free in Italy.