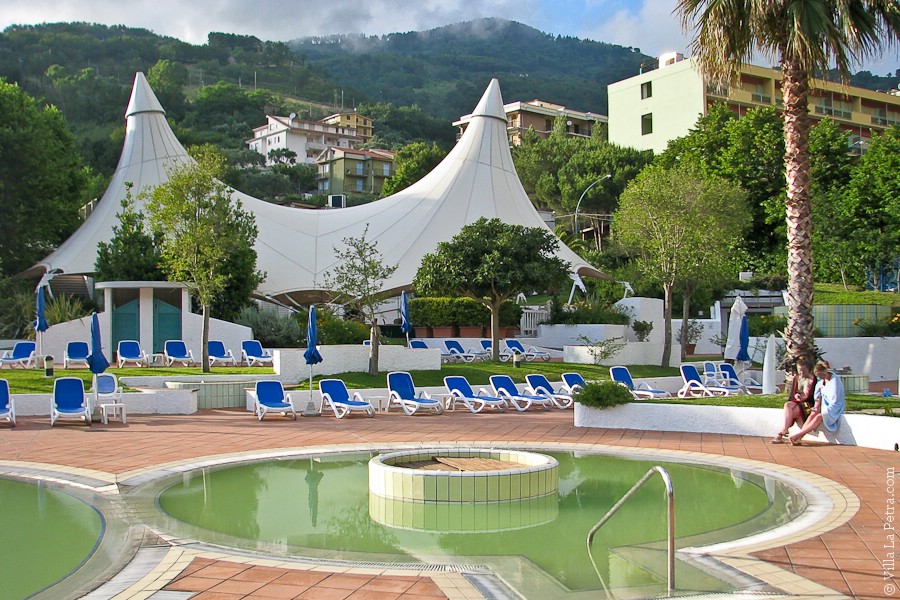 On the hills and wide valleys of the river Bagni, a stone throw from the Cedar's Riviera and not too far from Diamante there is Terme Luigiane, an antique, health center.
Terme Luigiane is open all year and they are a real gem for those who love the well-being of body and mind: four hotels, one residence, indoor and outdoors swimming pools, fitness center, conference center, playground and many other facilities that are available for those who decide to visit this beautiful terme. Here you will easily find mental but also physical peace.
Thanks to the really high level of sulfur in these waters, Terme Luigiane are offering a wide range of different therapies and spa treatments. You can also ask for a meeting with the medical stuff that will explain you all the features of the water and help you choose the best treatment for you.
The baths are situated near the town Acquappesa, in the province of Cosenza. They are surrounded with the hills of which the most famous one is "Dito del Diavolo" ("Devil's Finger"). Five springs gush out at the foot of this dolomite cliff. Once a week tours are organized of the springs and their surroundings.
This nice landscape that surrounds the Baths is perfect for long or short walks. For those who like to exercise, they can find numerous sports facilities like a bocce court, tennis court, football pitch, gym, fitness trails and a spa. The hotel management also organizes different contest and tournaments for the guests of the terme.
Being just 1.5 km from the sea, it's really easy to reach the nearest beach from the terme. There is also a shuttle service that connects the beaches with the hotels. This how you can combine your thermal therapy with nice relaxing therapy. You can also try a "heliotherapy" that brings sunrays on your skin or directly or as a reflection from the sun and sand exerting their health benefits on you.
A part of enjoying the therapies and treatments of the terme you should also use the opportunity to visit local cities like Diamante, Guardia Piemontese and Acquappesa. If you are planning to visit in August then one thing you shouldn't miss is the Festival of Peperoncino (chili pepper) in Diamante. This little town is known for the really strong chili peppers infused in oil called Calabrese Bomba.
This area has perfect nature, beaches, sea and landscapes. If you add to all of that Terme Luigiane you can have a perfect mix of relaxing and sightseeing. No matter what time of the year you decide to visit you will always be welcomed with arms open.