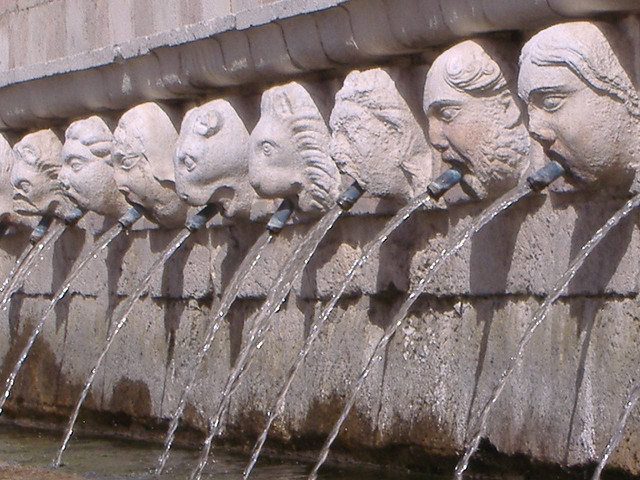 A fantastic region of Italy dominated by art and a strong art heritage, Abruzzo has a powerful history and plenty to offer visitors.
L'Aquila
Perhaps the most interesting of the art towns, L'Aquila is found on the mountainside of the Gran Sasso. Easily the most impressive piece in the town is one of the largest. The stunning Basilica di San Bernardino stands prominently in the town, although the large castle pales in comparison to the impressive Basilica di Santa Maria di Collemaggio, the area's most famous church. Amazing rose windows and stunning architecture mark the church which dates back to 1288 when it was consecrated. Other impressive structures in L'Aquila include Fontana delle 99 Cannelle, or the fountain with 99 spouts and corresponding masks as well as the many museums and homes for famous art.
Seaside Resorts
Abruzzo has a number of seaside towns and beaches popular with tourists and natives alike. Among these the city of Pescara is known for long, white sandy beaches. Other resorts can be found in the seaside towns of Tortoreto, Giulianmova, Silvi Marina and San Salvo among many others. With hills rolling down to the beaches, this particular region of Italy is striking to simply observe as well as delightfully accessible for play and other exciting family or romantic excursions.
La Perdonanza
A colorful celebration that draws visitors from around the country and the globe, La Perdonanza dates back to 1294 when Pope Celestine V was crowned in the famous church of L'Aquila. With his new status, the new pop granted plenary indulgence to everyone present who had taken Communion and also confessed to their sins. This grand tradition continues every year on August 28 when the sins of those present are pardoned and then an impressive costumed procession starts a week of outrageous celebrations.
Corso Ovidio
There are many palaces on Corso Ovidio, but among these one stands out most prominently. Palazzo dell'Annunziata is an attractive collection of many styles of Renaissance and Gothic architecture. The associated museum, Museo Civico showcases a nice assortment of sculpture and mosaics as well. The nearby Museo Archeologico in situ also shows the relics of a Roman villa dating back more than 2,000 years. Sadly the museums are being repaired following a large earthquake to the region in 2009, but both should be opened again in the near future to showcase more treasures from this part of Italy.